It is very important to obtain a good catch dog with enough intelligence to match the hog's own high intelligence. A high prey drive, stamina, and the desire to keep going and never let go is also needed. A good hog dog also needs to have strength and athleticism, as well as a high level of loyalty and devotion to it's owner. Pit Bulls are a breed that aim to please and as a result are usually very obedient, though some pit bulls may be headstrong and CHOOSE not to listen when called off the hog. In those cases, a breakstick is needed to remove the pit bull from the hog. A pit bull's jaws do NOT lock, but they do have very strong jaws and if they don't really want to let go, a breakstick is necessary to aid in the dog's removal. The right amount of aggressiveness is also needed when hog hunting. Having a pit bull that does not get along with other hunting dogs can be a pain in the butt, but having a catch dog that does not get along with people is about as bad as it gets. Most of the time there are a group of hog hunters and whoever gets to the dogs first, may need to handle the dog so the hog can be tied up. So it is needless to say that a good catch dog MUST be well socialized with all the people who are going on the hunt.
For the safety of your dogs, you can protect them with vests and cut collars. A wide leather collar offers a good deal of protection from cuts to the neck. While a thick canvas vest protects the dog's vital areas. Dogs will still get cuts though and it's a great idea to keep a sewing kit with you or staples to repair nasty wounds. Most of our dogs have some scars on their faces from cuts... but they don't seem to care too much about it. They just love to hunt.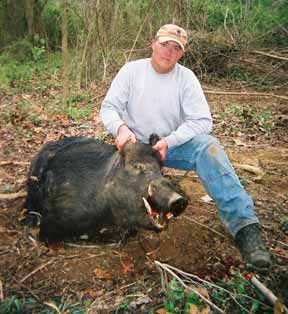 My husband Mike with a 450 lb. wild boar. It's still alive in this picture. Mike used to live for deer hunting. Ever since he went on that first hog hunt and had the thrill of that chase, he was hooked for life! Mike still goes deer hunting, but it doesn't hold the same thrill that hog hunting does for him.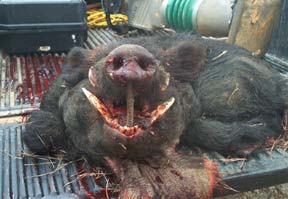 This is the same 450 lb. Wild Boar pictured above, now skinned out in Mike's truck. This boar was caught by our female pit bull Semi-Sweet. Mike has this wild boar mounted and hanging in our living room.
If you can't see the video above click here.
Marcel (the red dog with the camera on his back in the video above) is from our dog Bullseye and Legacy from Southern Inferno Kennels. He's catching wild hogs on Nat Geo Wild's TV Show "Swampmen" with his owner Cory.
Video of hunters tying up a wild boar.
Phillip Howell and his American Bulldog Gus are in this video.
Video of hunters walking a wild boar through the woods alive.
Baydog.com has a classified ads section where you can buy small pigs to train your young pit bull puppy on.
You should introduce young pit bull puppies to small pigs that are roughly the same size that they are, in a controlled environment where they are comfortable and will not become afraid. You should arrange for the puppy to be near the hog for at least a week.
Puppies can start training after the age of 4 months old. Most pit bull puppies that have the drive necessary to hog hunt, will show that they are interested in the hog after a week or so. Once a pit bull puppy grabs a hog and hears that squeel, it becomes fun for the puppy and training becomes play.